Classic Bible Stories and Global Perspectives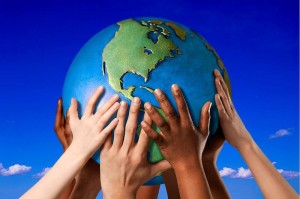 Back in late June as Steph the intern and I started brainstorming about the upcoming youth year.  We very quickly found ourselves discussing the grand beauty of the biblical narrative.  I think that is a usual occurrence when a pastor and an intern pastor get together.  We reflected on the importance of the classic bible stories many read and study in Sunday School and quickly arrived at the theme for our year.
"CLASSICS"
This year, your youth group will be studying through as many classic bible stories as humanly possible in the span of 8 months.  We are starting in Genesis, and ending in Revelation.  We will study, discuss, discern, wonder, question, critique, dream and participate within a world wherein God's Kingdom is emerging.  We will be doing a number of community engagement activities, and a good share of youth group building events.
In tandem with this theme of "Classics" is an attempt to embody one of Emmanuel Mennonite Church's core values.   A Global Perspective, as one of our core values is formative for our community.  We have many people, from different places all over the world.  Many of the people who call this community home have served as missionaries, all over the world.   As such, a Global Perspective remains in our communal conscious, gets us thinking big and thrusts us into a global community which is diverse, unique, and beautiful.  A perspective such as this curiously informs or should inform how we engage the dynamic narrative of scripture, and subsequently how are an incarnational presence in our own particular time and place.  One way to experience the animation of this beauty is to participate in the Mennonite World Conference which is happening this coming July in Harrisburg Pennsylvania.  The hope is to connect with Anabaptists all over the world, in a place rich with stories of our faith tradition.
So this is the official invite.  Pray for us.  Pray for the journey of this youth group as we embark upon the grand narrative of scripture informed by the world around us, both small and big.  But the invite moves beyond prayer, in hopes that you will join us on our journey to Harrisburg Pennsylvania for the Mennonite World Conference.  We hope to see you there.