Christ is Our Light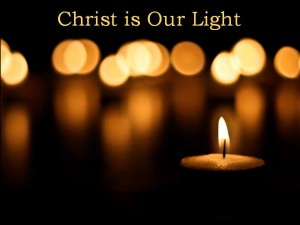 Our worship theme this Advent and Christmas season is "Christ is Our Light." We've already lit the first candle on the Advent wreath at the front of the church. On the opposite side of the stage, there's a Christmas tree covered with lights. And front and centre, stands a manger filled with straw and more lights. In the words of Scripture, prayer, and sermon, in our visuals, in our songs, Christ is our light!
For this season, we are learning a new song by Chris Tomlin: Even So Come:
There will be justice all will be new
Your name forever faithful and true
Jesus is coming soon
Please see here for the full lyrics, and enjoy the music video below, although during worship, we sing a simplified version in a lower key. In addition to our regular Sunday morning worship times, we warmly invite you to take part in:
Christmas Eve, December 24
6pm – Christmas social
7pm – Worship – Christ is Our Light!
Christmas Day, December 25
10am – Christmas worship followed by potluck lunch.
_________________________________________________________________