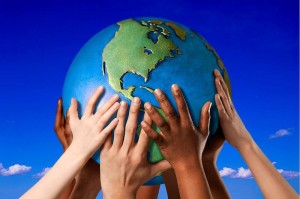 Back in late June as Steph the intern and I started brainstorming about the upcoming youth year.  We very quickly found ourselves discussing the grand beauty of the biblical narrative.  I think that is a usual occurrence when a pastor and an intern pastor get together.  We reflected on the importance of the classic bible stories many read and study in Sunday School and quickly arrived at the theme for our year.
"CLASSICS"
This year, your youth group will be studying through as many classic bible stories as humanly possible in the span of 8 months.  We are starting in Genesis, and ending in Revelation.  We will study, discuss, discern, wonder, question, critique, dream and participate within a world wherein God's Kingdom is emerging.  We will be doing a number of community engagement activities, and a good share of youth group building events.
In tandem with this theme of "Classics" is an attempt to embody one of Emmanuel Mennonite Church's core values.   A Global Perspective, as one of our core values is formative for our community.  We have many people, from different places all over the world.  Many of the people who call this community home have served as missionaries, all over the world.   As such, a Global Perspective remains in our communal conscious, gets us thinking big and thrusts us into a global community which is diverse, unique, and beautiful.  A perspective such as this curiously informs or should inform how we engage the dynamic narrative of scripture, and subsequently how are an incarnational presence in our own particular time and place.  One way to experience the animation of this beauty is to participate in the Mennonite World Conference which is happening this coming July in Harrisburg Pennsylvania.  The hope is to connect with Anabaptists all over the world, in a place rich with stories of our faith tradition.
So this is the official invite.  Pray for us.  Pray for the journey of this youth group as we embark upon the grand narrative of scripture informed by the world around us, both small and big.  But the invite moves beyond prayer, in hopes that you will join us on our journey to Harrisburg Pennsylvania for the Mennonite World Conference.  We hope to see you there.
Read More
Hello all.
I had the privilege to interview Darnell Barkman, and his friends Regina and Jon a few days ago.  Darnell, his wife Christina and 2 boys Cody and Makai are a missionary family with Mennonite Church Canada Witness in Metro Manila in the Philippines, and we are supporting them in this ministry as members of our church.  It was a beautiful conversation full of stories about what Anabaptists are doing in the Philippines.  The video of the interview is below, and the link gives the bio's of the others involved in this hopeful conversation.  Be sure to check it out.
http://mennonerds.com/mennonerds/global-anabaptist-conversations-philippines-w-darnell-barkman/
Read More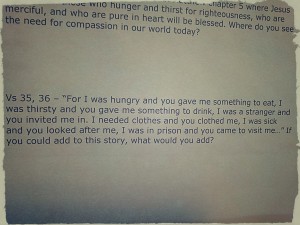 The Emmanuel Mennonite Youth had a wonderful time preparing and serving during the worship service on Sunday April 14th.  It was a joy to experiment and explore what a multi-voiced sermon time could look like for our community.  It is the hope of the youth group that you left the service feeling as if you participated with them significantly in worship, conversation and wonderment over the Matthew 25:31-46 text.
As we navigated the questions together, we asked the question "If you could add to this story (Matthew 25:31-46), what would you add?"  The answers we received were astounding and encouraging.  I would like to use this space as a place in which to share how we as a community would add to this classic text.  Thank you to those who handed in their sheets to the ushers.
"For I was hungry and you gave me something to eat, I was thirsty and you gave me something to drink, I was a stranger and you invited me in.  I needed clothes and you clothed me, I was sick and you looked after me, I was in prison and you came to visit me…." 
– Matthew 25:35,36
when I felt no one cared you gave me a place to belong.

when my home was shabby and falling apart you helped me improve and make it cheerful.

I was young and you listened to me.

I was old and you honoured me.

I needed money for school and you sent some for me.

I needed a phone call when I was sick and you called me.

when I was hooked on drugs, cigarettes, and liquor you sent volunteers to visit, comfort, and show love.

when I told you I was gay, you welcomed me.

I was bullied and you stepped in.

I was depressed and you encouraged me.

I was invisible and you saw me.

I was untouchable and you embraced me.

When I was mocked, you stood up for me.
What would you add?
Read More