Unfailing. It's a big word, stretching into every upcoming minute and hour, day and year.
Past the end of life itself into all eternity. Unfailing. It holds firm, never giving way, no
matter what weight or stress is placed upon it.
Unfailing love always protects, always trusts, always hopes, always perseveres.
Such is God's love, seen in the person of Jesus who, as good shepherd, gave his all for
each of us – protecting, saving, forgiving, extending fullness of life.
This Thanksgiving, receive…and give thanks.
(The churches of Abbotsford, giving thanks together!)
_________________________________________________________________
Read More
Our worship theme this year is "Sharing Faith Stories." Join us as we explore God's story and our own stories. Let's share together and with our families, friends, neighbours, co-workers, and everyone!
Read More
Telling stories brings people together in shared experience, laughter, tears, love, pain, joy, and so much more. Yet we sometimes struggle to share our faith stories with one another—
Because we feel awkward,
Because we've been on the receiving end of too many bad examples,
Because we don't know how to put into words what's in our hearts,
Or for some other reason we can't explain.
At the same time, the Bible is filled with faith stories and encourages us to share our own–to inspire and nurture faith, build community, and reach out to others.
Sharing Faith Stories is our worship and preaching focus for the coming year, beginning September 17 with Hebrews 11. Then throughout the year, we'll focus on
different faith stories from the Bible and what we can learn about sharing our own stories of faith,
faith stories in the form of member testimonies,
the stories behind some of the songs that we sing (to be featured in the newsletter),
names for God (Advent/Christmas and Lent/Easter).
We'd love for you to participate by sharing your faith story during worship or in the newsletter, contributing a devotional for the church to use during the Lenten season, reading a biography or other faith story from the church library, and other creative ways.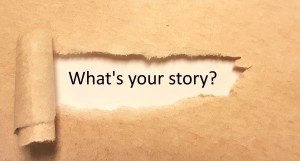 _________________________________________________________________
Read More