Just like this website, our church is also a work-in-progress, always growing and changing. We invite you to check back often, and come grow and change with us. We'd love to hear from you!

_________________________________________________________________
Read More
Our world is filled with many voices and distractions that call us away from God—violence and fear, consumerism and materialism, hectic schedules and constant busyness, to name just a few. In contrast, Lent is a 40-day period in the Christian calendar that provides a chance to step back and create space, offering opportunities for reflection. It is a time to repent, to renew our commitment to God's ways, and to empty ourselves of what distracts us from hearing God's voice. This year, our theme for Lent is "Restore Us, O God."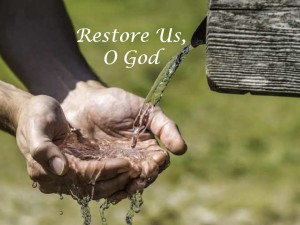 Lent 1, March 5 – We welcome Jonathan Neufeld, a former member and pastoral intern of Emmanuel, now Community Minister at Seattle Mennonite Church. Jonathan will speak in Sunday morning worship and be our guest during the adult education time as well.
Lent 2, March 12 – Walter Bergen, delivering Acts 7, The Martyrdom of Stephen.
Lent 3, March 19 – Pastor April Yamasaki's message based on Exodus 17:1-7, "Thirsty."
Lent 4, March 26 – Pastor April Yamasaki speaking on 1 Samuel 16:1-13, "Hiding in Plain View."
Lent 5, April 2 – Arny Froese preaching on our Lenten theme.
Lent 6, April 9 – Pastor April Yamasaki speaking on Matthew 26-27, "The Passion of the Christ."
Stay tuned for information on our Easter worship:
April 13 – Holy Thursday Communion, 7:30pm
April 14 – Good Friday worship, 10:00am
April 16 – Easter worship
_________________________________________________________________
Read More
Due to technical difficulties last Sunday, we were unable to show the Mennonite World Conference video, so please enjoy it here instead:

_________________________________________________________________
Read More
What does it mean to be a faith community, and how do we express it? Join us for this preaching series as we begin 2017.
Read More
As we begin this new year, we turn to the third of our core values: Community. It's already received some attention in our previous preaching series on what it means to be Anabaptist, and on having a global outlook, and we'll highlight it in the next few weeks as well. Please join us for Sunday worship:
January 8 – Greg Sawatzky who works in our community with Youth Unlimited will speak on Jesus' story of the Good Samaritan
January 15 – As part of our community, the MEI Concert Choir will be our special guests
January 22 – We gather as a community of faith for the Lord's Supper, and we join with other churches for an afternoon celebration of the Week of Prayer for Christian Unity with Pastor April Yamasaki giving a short meditation. Everyone is invited to this joint service at St. Ann's Church, 33333 Mayfair Avenue, Abbotsford, January 22, 2017, at 3 pm Light refreshments to follow in gym.
January 29 – Pastor April Yamasaki preaching for World Fellowship Sunday
February 5 – Gary Yamasaki preaching on the early church community in Acts 2:42-47
February 12 – Community in action with Gerald Neufeld, our music coordinator and pastor of the Japanese Mennonite Church, speaking on how God led him to donate a kidney.
February 19 – Many Peoples Sunday with Pastor April Yamasaki preaching
February 26 – Transfiguration Sunday –mountain-top community with three of Jesus' disciples, Jesus, Moses, and Elijah in Matthew 17:1-9.
_________________________________________________________________
Read More