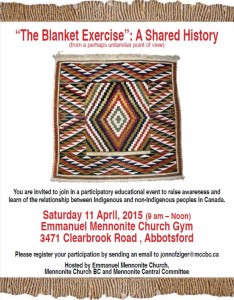 You are invited to travel a journey of reconciliation.
As part of an ongoing response to foster relationship with our First Nations neighbours, Emmanuel Mennonite will be hosting an experiential learning exercise on the shared history between First Nations and settler peoples.  This event is being facilitated in collaboration with Mennonite Church BC and Mennonite Central Committee. Please register your participation
by informing Jon Nofziger - jonnofziger@mccbc.ca
The Blanket Exercise, Saturday, April 11, 2015, Emmanuel Mennonite Gym
Read More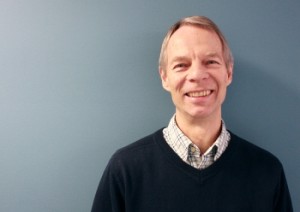 What is Islam? What does the Qur'an teach? What do Muslims believe? What does Islam have to do with 9/11? How shall we relate to Muslims? Islam is the world's fastest growing major religion, and Christians the world over, including in Canada, find themselves with Muslim neighbours. Join us this weekend for sessions on Islam's origins and development, its scriptures and teachings,  its presence in the modern world, and how we might relate with one another.
Our guest speaker is John Derksen, Assistant Professor of Conflict Resolution Studies, Canadian Mennonite University. John has previously taught in Cairo, Egypt; Yerevan, Armenia; and Beirut, Lebanon. Having lived outside North America for 20 years, and having encountered the devastation of poverty, interpersonal violence, and war, he is committed to cross-cultural and interfaith understanding, and to nurturing peace with justice.
Saturday, February 14, 10am – 3pm at Eben-Ezer Mennonite Church, 2051 Windsor Street, Abbotsford, B.C.
Sunday, February 15, 9:30-10:20am at Emmanuel, 3471 Clearbrook Road, Abbotsford, B.C.
Sunday, February 15, 10:30am worship at Emmanuel: "Love: The Way with People of Other Faiths" (1 Corinthians 12:27-13:13).
Read More

January 18-25, 2015
This year we're reading and preaching through John's gospel, which includes Jesus' prayer for his followers in John 17: "May they be brought to complete unity to let the world know that you sent me and have loved them even as you have loved me" (v. 23).
Given our direction for this year, it's especially appropriate that the 2015 Week of Prayer for Christian Unity focuses on John 4: Jesus said to her: "Give me a drink." We are warmly invited to gather as follows:
Monday, 12:15 pm, Jan 19
Peace Lutheran Church
2029 Ware Street
Tired of the journey, Jesus sat down facing the well (John 4:5-6)
Tuesday, 12:15 pm, Jan 20
St. Ann's Catholic Church
33333 Mayfair Avenue
"I have no husband" (John 4:16-19)
Wednesday, 12:15 pm Jan 21
Calvin Presbyterian Church
2597 Bourquin Crescent East
Then the woman left her water jar (John 4: 25-28)
Thursday, 12:15 pm, Jan 22
Trinity Christian Reformed
3215 Trethewey Street
You have no bucket and the well is deep (John 4:6-15)
 Friday, 12:15 pm, Jan 23
Mount Lehman United Church
6256 Mount Lehman Road
Jesus said: "The water that I will give will become in them a spring of water"
(John 4:11-15)
Sunday, 7:30 pm, Jan 25
Highland Community Church
3130 McMillan Road
Many believed because of the woman's testimony (John 4:27-30 39-40)
Donations at all events are designated for the Abbotsford Food Bank and women's residential Life Recovery Program.  
Read More