January 18-25, 2015
This year we're reading and preaching through John's gospel, which includes Jesus' prayer for his followers in John 17: "May they be brought to complete unity to let the world know that you sent me and have loved them even as you have loved me" (v. 23).
Given our direction for this year, it's especially appropriate that the 2015 Week of Prayer for Christian Unity focuses on John 4: Jesus said to her: "Give me a drink." We are warmly invited to gather as follows:
Monday, 12:15 pm, Jan 19
Peace Lutheran Church
2029 Ware Street
Tired of the journey, Jesus sat down facing the well (John 4:5-6)
Tuesday, 12:15 pm, Jan 20
St. Ann's Catholic Church
33333 Mayfair Avenue
"I have no husband" (John 4:16-19)
Wednesday, 12:15 pm Jan 21
Calvin Presbyterian Church
2597 Bourquin Crescent East
Then the woman left her water jar (John 4: 25-28)
Thursday, 12:15 pm, Jan 22
Trinity Christian Reformed
3215 Trethewey Street
You have no bucket and the well is deep (John 4:6-15)
 Friday, 12:15 pm, Jan 23
Mount Lehman United Church
6256 Mount Lehman Road
Jesus said: "The water that I will give will become in them a spring of water"
(John 4:11-15)
Sunday, 7:30 pm, Jan 25
Highland Community Church
3130 McMillan Road
Many believed because of the woman's testimony (John 4:27-30 39-40)
Donations at all events are designated for the Abbotsford Food Bank and women's residential Life Recovery Program.  
Read More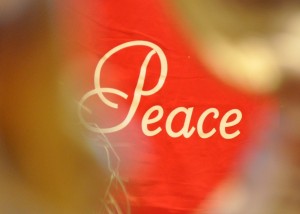 We warmly invite you:
December 24, Christmas Eve Social
6pm
Christmas Eve Social in the banquet room to meet old and new friends – please feel free to bring a plate of Christmas treats to share.
December 24, Christmas Eve Worship
7pm
Worship in the sanctuary: The Story of Christmas in Scripture and Song – please join us for carol singing, choir, special music, and  candlelight as we celebrate the birth of Jesus.
December 25, Christmas Day Worship
10:30am
Worship in the sanctuary: The Prince of Peace - meditation by Chris Lenshyn, carol singing, volunteer choir singing Der Friedensfurst (The Prince of Peace). May God's joy and peace be yours this Christmas!
Read More
On November 9, Emmanuel celebrated Peace Sunday with a service that included prayers and poetry inspired by and built on Isaiah 2:2-5 — "…They will beat their swords into plowshares and their spears into pruning hooks." Some original poems by Emmanuel members were read, as well as a poem by the American novelist, poet, environmental activist, cultural critic and farmer Wendell Berry. Here are those poems about peace and links to them:
Adriel Brandt:  "Zion"
April Yamasaki:  "After the Clash (an evening at the Reach Gallery)"
Barb Nickel [in lieu of the new, unpublished poem she read on Sunday]: "Nickel Mines"
Wendell Berry:  "The Peace of Wild Things"
Poem by Emmanuel member (wishing to remain anonymous):
I AM EVE
I am Eve
I live in the garden of Eden
A place of peace
and security
With blossoms in spring
and colored leaves in the fall
I am Eve
I eat of the apple
I sin
I live with guilt
and remorse.
I hide in shame
I am accountable
I am Eve
I am forgiven
I am wrapped in love
I worship
and praise
I proclaim God's plan of peace
for my world
with my story.
I am Eve
I am God's daughter
I am at peace.
Read More