It was a pleasure to welcome Hummingbird Ministries as our October 25 Mission Sunday guests this year. Mary Fontaine founded this Presbyterian ministry of healing with aboriginal people in 2004, and we were glad for her visit with elders Dorothy Visser and Ruth Adams. Thank you to Mary, Dorothy, and Ruth for your songs, words, stories, and presence–with our adult education class, in worship, in sharing the meal, and leading us in the blanket exercise to re-tell the story of European settlement in Canada and its impact on Indigenous people.
As several commented afterward, it was a profound and deeply moving time. May God continue to guide your work of education and reconciliation, and may we continue to walk this path together with you. For those who requested a copy of the script of the blanket exercise, you will find it available here: The Blanket Exercise.
As we ended our time together, Mary also invited us to Hummingbirds Peace Through the Arts/Dance Festival, which is being planned for Saturday, November 7 at Gilmore Park United Church, 8060 No 1 Rd, Richmond, BC. The Festival runs from 11:30am-8pm with music, dance, theatre, and food, and you're invited to drop in for part or all of the day.
Read More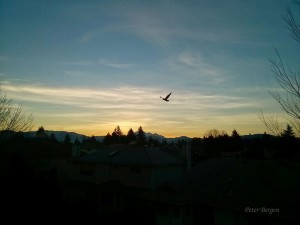 There are so many things to be thankful for in this God-given world – beauty of the earth, glory of the skies, human love, to name a few.
But there is one gift which can only be described as indescribable – God's gift to us of his Son, Jesus Christ. Through Jesus we receive forgiveness,, peace with God, life to the full, and hope for the future.
This Thanksgiving, receive…and give thanks.
(The churches of Abbotsford, giving thanks together!)
Photo Credit: Peter Bergen
Read More
As part of this month's Mennonite Church B.C. pastors' meeting, we were invited to tour the Metzger Collection of museum-quality replicas of artwork and artifacts that connect the biblical story to culture and history. As J. I. Packer has said, "Without some study of history a vast amount of the meaning of Scripture is lost."
Our tour began with this four-minute video:
With over 1200 pieces, the collection is simply too big to take everything in at once! If you'd like to visit and/or for more information including hours of operation and location, please see Columbia Bible College Metzger Collection.
Read More