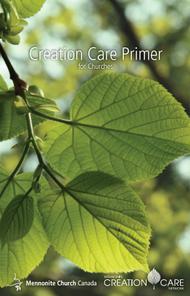 Thanks to the Mennonite Creation Care Network, I've just downloaded a copy of the Creation Care Primer for Churches. It includes some brief background and history, a list of web and print resources, and a collection of faith-based environmental initiatives in Canada. Feel free to download your copy here and share the link with others: Creation Care Primer.






Read More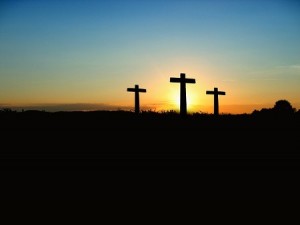 We welcome you to join us for Easter worship:
Waiting with Jesus
Holy Thursday Communion, 7:30pm
in the sanctuary
The Way of the Cross
Good Friday Worship, 10:30am
in the sanctuary
Easter Breakfast – Sunday, 9:30am in the gym
To share as you're able:
Last names A-K – hot cross buns or other Easter baking
Last names L-$ – fruit platter
Last names S-Z – plate of eggs or cheese.
We also would appreciate help with the clean up.
Easter Worship – Sunday, 10:30am in the sanctuary
Another Chance at Easter – Pastor April Yamasaki
Read More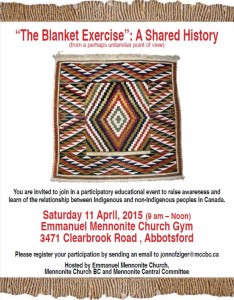 THIS EVENT HAS NOW BEEN POSTPONED UNTIL FALL.
You are invited to travel a journey of reconciliation.
As part of an ongoing response to foster relationship with our First Nations neighbours, Emmanuel Mennonite will be hosting an experiential learning exercise on the shared history between First Nations and settler peoples.  This event is being facilitated in collaboration with Mennonite Church BC and Mennonite Central Committee. Please register your participation
by informing Jon Nofziger - jonnofziger@mccbc.ca
The Blanket Exercise, Saturday, April 11, 2015, Emmanuel Mennonite Gym
Read More