Portable Canadian Mennonite University (CMU)  with Dr. Delmar Epp.
We hear about division and conflict in many contexts; nations, groups (including churches), and individuals find themselves isolated from one another, wary, anxious, and unable to trust each other. Social psychologists have identified some of the causes of these divisions, and perhaps surprisingly, conflicts on any scale appear to have many of the same origins. In our series, we'll discuss some of these factors, together with some ideas for how to develop or restore our relationships with neighbors.
Delmar is an Associate Professor of Psychology at Canadian Mennonite University. His Ph. D. is from University of Manitoba; he's been on faculty at CMU from its inception in 2000. His current research efforts explore some of our fundamental social motives – factors that lead us to affiliate (or not to affiliate) with one another.
• Friday, Feb. 12 7:30-9pm at Emmanuel (banquet room—please use the office entrance on the south side of the church)
• Saturday, Feb. 13 9am-noon at Emmanuel (banquet room)
Read More
Youth tell their story in this video that was part of our worship last Sunday. What's your story?
This Is My Story from Youth Unlimited Metro Vancouver on Vimeo.
Read More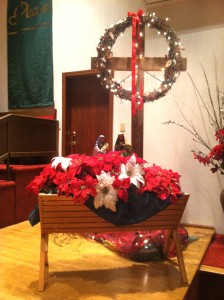 As part of our Christmas Eve worship, children of Emmanuel shared prayers that they had written for children in the Philippines and Nepal. Thank you to our wonderful children's ministry volunteers who gave the children a framework for their prayers and helped them make the peace wreath with peace card ornaments to hang for each child, and to the Worship Connect kids for their prayers that appear in italics below. You are all AMAZING!
Prayer of Peace for Cody, Makai, Teyah, Sital, Pasang, Ashis, Sirisha, Priya, Bishal, Shanta, Bikram, and Avishek:
May your eyes have visions of peace. May your eyes see the light of God, a pathway to a wonderful life, love and comfort, the flight of freedom, happiness, oceans of hope and great flowers.
May your hands do the work of peace: to help and to comfort. May your feet walk in the direction of peace. May you feel the safety of solid walls, God holding you, the love of God, God near you, God's happiness, joy and freedom, the presence of God, the waves of calm. May you feel happy and safe.
May you smell fresh air when you wake up, breathe in and out of your healthy body, walk in the ways of God, play outside, pray, and sing.
May you not be hungry but have enough food and friendship, rice, peace, bread, and cheeseburgers for life.
May you not be thirsty but have clean water to drink, enough water to fill your holy spirit, joy, and endless cans of root beer.
May you hear and make music to feel peace. May you hear words that love you, give you hope, sing out with joy, inspire you to do more, help you feel braver than ever before, smile, and ring with the Holy Spirit.
To God with love from Seneca, Nate, Naomi, Isaac, Erin, Emma, Audrey, Anna, William, Amani, Matias, and Elizabeth.
Dear God, may all the children here tonight, and all the children around the world: see your wonders, feel your comfort, smell fresh air, have enough rice or bread to eat, drink clean water, and hear angels sing.
Read More