Due to technical difficulties last Sunday, we were unable to show the Mennonite World Conference video, so please enjoy it here instead:

_________________________________________________________________
Read More
As we begin this new year, we turn to the third of our core values: Community. It's already received some attention in our previous preaching series on what it means to be Anabaptist, and on having a global outlook, and we'll highlight it in the next few weeks as well. Please join us for Sunday worship:
January 8 – Greg Sawatzky who works in our community with Youth Unlimited will speak on Jesus' story of the Good Samaritan
January 15 – As part of our community, the MEI Concert Choir will be our special guests
January 22 – We gather as a community of faith for the Lord's Supper, and we join with other churches for an afternoon celebration of the Week of Prayer for Christian Unity with Pastor April Yamasaki giving a short meditation. Everyone is invited to this joint service at St. Ann's Church, 33333 Mayfair Avenue, Abbotsford, January 22, 2017, at 3 pm Light refreshments to follow in gym.
January 29 – Pastor April Yamasaki preaching for World Fellowship Sunday
February 5 – Gary Yamasaki preaching on the early church community in Acts 2:42-47
February 12 – Community in action with Gerald Neufeld, our music coordinator and pastor of the Japanese Mennonite Church, speaking on how God led him to donate a kidney.
February 19 – Many Peoples Sunday with Pastor April Yamasaki preaching
February 26 – Transfiguration Sunday –mountain-top community with three of Jesus' disciples, Jesus, Moses, and Elijah in Matthew 17:1-9.
_________________________________________________________________
Read More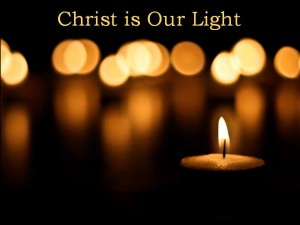 Our worship theme this Advent and Christmas season is "Christ is Our Light." We've already lit the first candle on the Advent wreath at the front of the church. On the opposite side of the stage, there's a Christmas tree covered with lights. And front and centre, stands a manger filled with straw and more lights. In the words of Scripture, prayer, and sermon, in our visuals, in our songs, Christ is our light!
For this season, we are learning a new song by Chris Tomlin: Even So Come:
There will be justice all will be new
Your name forever faithful and true
Jesus is coming soon
Please see here for the full lyrics, and enjoy the music video below, although during worship, we sing a simplified version in a lower key. In addition to our regular Sunday morning worship times, we warmly invite you to take part in:
Christmas Eve, December 24
6pm – Christmas social
7pm – Worship – Christ is Our Light!
Christmas Day, December 25
10am – Christmas worship followed by potluck lunch.
_________________________________________________________________
Read More
How good to be reminded. With so much on our plates, it's possible to by-pass gratitude.
Take a moment and give thanks. For we owe God everything: every breath, every good and perfect gift, every moment, waking or sleeping, thriving or otherwise. For even when we struggle, God is our sustatiner.
And, yes, God's love endures forever. Experienced in so many ways, yet most powerfully through Jesus. For God so loved that he gave his one an only Son, for us.
This Thanksgiving, give thanks.
-posted in cooperation with the churches of Abbotsford, giving thanks together!
_________________________________________________________________
Read More