Adding to the Story of Matthew 25:31-46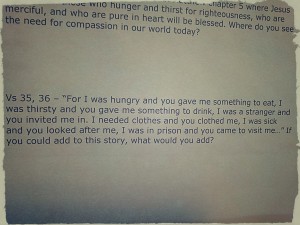 The Emmanuel Mennonite Youth had a wonderful time preparing and serving during the worship service on Sunday April 14th.  It was a joy to experiment and explore what a multi-voiced sermon time could look like for our community.  It is the hope of the youth group that you left the service feeling as if you participated with them significantly in worship, conversation and wonderment over the Matthew 25:31-46 text.
As we navigated the questions together, we asked the question "If you could add to this story (Matthew 25:31-46), what would you add?"  The answers we received were astounding and encouraging.  I would like to use this space as a place in which to share how we as a community would add to this classic text.  Thank you to those who handed in their sheets to the ushers.
"For I was hungry and you gave me something to eat, I was thirsty and you gave me something to drink, I was a stranger and you invited me in.  I needed clothes and you clothed me, I was sick and you looked after me, I was in prison and you came to visit me…." 
– Matthew 25:35,36
when I felt no one cared you gave me a place to belong.

when my home was shabby and falling apart you helped me improve and make it cheerful.

I was young and you listened to me.

I was old and you honoured me.

I needed money for school and you sent some for me.

I needed a phone call when I was sick and you called me.

when I was hooked on drugs, cigarettes, and liquor you sent volunteers to visit, comfort, and show love.

when I told you I was gay, you welcomed me.

I was bullied and you stepped in.

I was depressed and you encouraged me.

I was invisible and you saw me.

I was untouchable and you embraced me.

When I was mocked, you stood up for me.
What would you add?